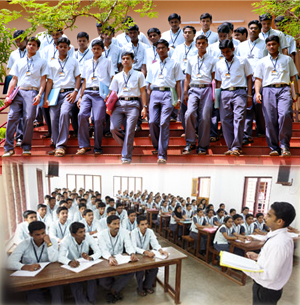 We have everything you would expect from a modern, reputable institution including innovative academic sessions, libraries and halls of residence, but also provide computer aided design and analysis, career centre, English language lab, R & D department , computerised monitoring and analysis, medical aids, shops and social facilities. Everything you are likely to need is located on campus, with the added benefit of the calm and quite ambience.
As a residential student much of your time will be spent on campus, whether you are eating, sleeping or socialising. You will have lots of opportunities to meet new and interesting people and participate in Institute activities.
At Visveswaraya you will find a friendly atmosphere and a sense of community among students. We look forward to welcoming you to Visveswaraya.
We take pride in providing students with a fulfilling education as well as an active social life. In over two decades of teaching, the Institution has invested heavily to provide students with first-class facilities, including:
* Modern, fully-equipped lecture classes. * A well stocked Institution library.
* First rate computing resources * A well-resourced Language Lab